How is brochure designing useful in business promotion?
A company brochure is an advertising paper document that typically can be folded for convenience. Compared with other paper promotional products, brochures contain more informative content and can be used to introduce a company, educate and enlighten people, provide reference information and more. In 2016 79% of SMEs in the US had still been using flyers, brochures or business cards for marketing purposes.
Brochures can be both attention-grabbing and lead converting tools. Their convenient format allows easy distribution without being overwhelmingly limited by publishing space. It makes great sense to create a company brochure to complement your face-2-face promotion so that people can take it with them and have contacts on hand once they'll need it.
Such a tool can be used for product promotion to potential partners or business customers, too. Brochure format allows creating informative material that appears professional, displays products and services but weighs much less than a catalog. Thus, on events like trade shows or conferences, you will see them a lot.
Some companies still use the technique to place brochures into places where potential customers spend time such as beauty salons, office centers, grocery shops. This can bring results if the traffic around consists of your potential audience rather than a random passerby. However, you may need to discuss brochure placing with the area owner beforehand.
Format-wise flyers can be considered a type of brochure. However, commonly they contain less information and focused mainly on quick advertisement or announcement rather than detailed and versatile coverage of a topic like a brochure would.
Due to this, you can see flyers being widely implemented into local advertising strategies for catching ongoing traffic. However, they aren't that effective for business presentations or trade fairs.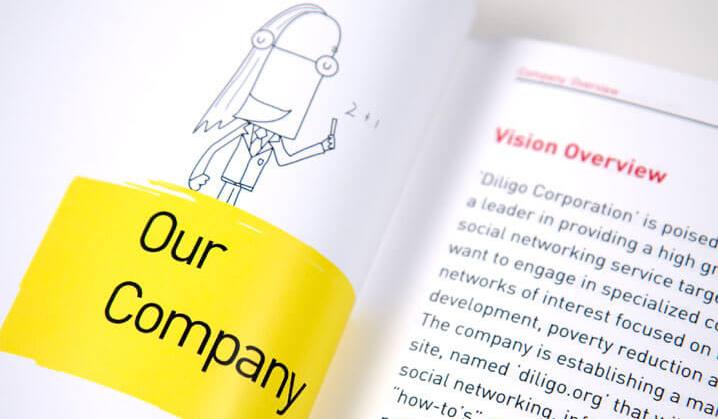 Don't aim to overpopulate a brochure with information. Make sure you include valuable information and facts for the recipient. You need to create separate brochures for customers and partners.
It is important to provide people with facts and bullet points that describe your company, its experience and expertise in the topic or industry. Concentrate on strong sides and benefits of choosing you along with useful information on how someone can contact or order from you.
The generic structure of your brochure should include:
Company Name
Contact details (2-3 channels or more)
Logo and tagline (if any)
What you offer
Benefits for the reader
Experience and strong sides
Links to additional information
Ensure you back up your claims with facts and data. A brochure is that type of promo material that should build up confidence and brand awareness, thus, it requires decent content.
Once you analyzed the target audience and identified that a brochure is the right format for you, decide on what content you'd include inside. Gather information and pre-plan how to present content to a recipient in an easy and productive way. This will give you a hint on the design goals and elements to explore.
Design is a notional part of a brochure. Aim for something professional and well-balanced, avoiding design overshadowing the information. These 2 components must complement and enhance each other, not compete.
Creative design moves can include die-cut details, pop-up elements, non-typical brochure shapes or else. Despite being eye-catching, some of these features can be useless for your particular company or sphere. Too many unusual elements may confuse a reader, too.
For those, who needs a playful brochure, there are even more creative materials to check out. Among them, you can find scratch-card like coating, scented paper, color-changing and glowing in the dark inks. Paper allows getting puffy details or explore various textures and finishings that appeal to tactile sensations.
To ensure that your brochure will have up to date contact details, you can try putting a QR code with a digital business card into it. This will allow people to scan the code and get a card with information that you can edit online at any time. It can replace phone numbers, address, social media all at once. One more advantage of using the code is data on how many people scanned it and analysis of the effectiveness of the marketing campaign.
Aside from contact details, you can add more digital features through a code. Some creative examples include a virtual showroom or product catalog. This is a good way to overcome the limits of a paper brochure and amaze prospects with how interactive a piece of paper can be.
Was this article helpful?