Lite Messenger App for Business
Chat, call and share your contacts with team members. Simple and quick online meetings. Digital business cards with QR codes and built-in card scanner.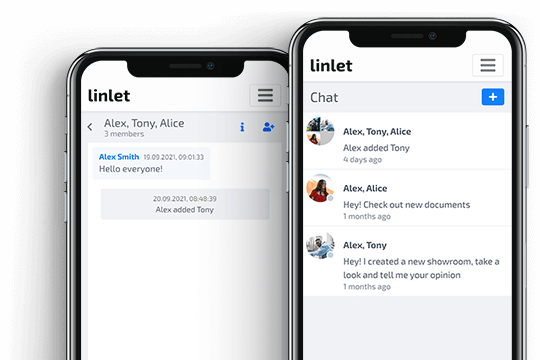 What is included in our Free App
Digital business cards
You get a free business card, which you can fill in with contact information you would like to share with others.
Card Scanner
Scan business cards, make notes and save new contacts with just a few clicks. QR code scanning is supported as well.
Messenger lite
Create dialogs and group chats with your contacts, exchange documents and pictures in a simple yet quick interface.
QR codes
Each profile comes with a personal QR code on your virtual card for quick contact sharing.
Audio chats & Group calls
Call your contacts right from the chat with a single click. X contacts are supported in one call.
Business networking
Using the Discover page find new people and companies to broaden your partnership network.
Feed
Post important updates and news, read what your contacts are sharing on their feeds.
Need more?
Check out the Linlet web version, which is also free, for extra features
Create business
Set up a company to appear on the Discover page and have a shared inventory for corporate contacts
Digital business cards
Create contact cards for your team members linked to the company
Products
Add company products, which can be easily shared and added to showrooms at trade shows
Online Events
Join and create virtual events with exhibition booths and live streams
Showrooms
Virtual booths for your company, where you can display catalogs and products, link team members to showrooms for quick chats with visitors
Documents
Add your documents to the company, so visitors can check virtual catalogs online. All files are stored safely and can't be downloaded