How to make events more interactive?
Event organizers are under the constant pressure of participants' expectations. Both exhibitors and attendees join in with their own goals and values focused on fulfilling specific objectives. Trade shows are seen as a marketing and sales channels, networking source, and just overall productive, educational, remarkable and inspiring matter. How can you surprise this strict audience?
Provide experience
You have probably already heard a lot about how important it is to engage visitors during an event, so they'll be active and involved. But it's not only about that. The fact is that remarkable experience, something meaningful that contributes to peoples' memories, increases brand awareness and loyalty.
If you come to think of it, event activities and interactive elements are gold. They allow reaching the goals whether those are trade show promotion, increasing attendance, educating people, promoting specific brands or products, all while visitors have a good time and fun.
Photo Booth
People are passionate about photos. Even though social media is booming nowadays, and every single smartphone has a camera, there is some special magic about pictures that are taken in a photo booth. Typically, they offer to print photos, download GIFs and videos right on the spot.
If renting such a booth doesn't work for your type of event or budget, you may consider making a photo zone. It should have good lights for the sake of photo quality but also importantly, some event associated props or banners. If you can make the props in a creative way, go for it. This can help people create memories and content transforming an event into a story.
Games and Contests
Create a small contest to enliven an event schedule. It can be a fun treasure hunt, competition for the best visitor's content (quote, photo, story) or a simple quiz circled around the event's topic. You can throw a contest solely offline or with the help of smartphones - just ensure that the selected format will not despoil the fun of the process by making people struggle with poor network connection or else.
Additionally, if the budget allows you can have branded prizes for contest winners. It will be a nice extra to provide event swag and merchandise as small gifts for participants.
Virtual Reality
Devices that provide a virtual experience become more affordable to grab hands on. Starting from VR headsets up to massive simulation stations, the equipment can provide some extra entertainment during the show.
It may seem contradictory to the whole point of an event to engage visitors into some virtual world when they came to trade show for face-2-face meetings specifically. However, VR actually opens doors to additional experience that can't be replicated in a venue. Think of traveling across the globe, chasing wild bears or testing out a brand new tractor from your exhibitor.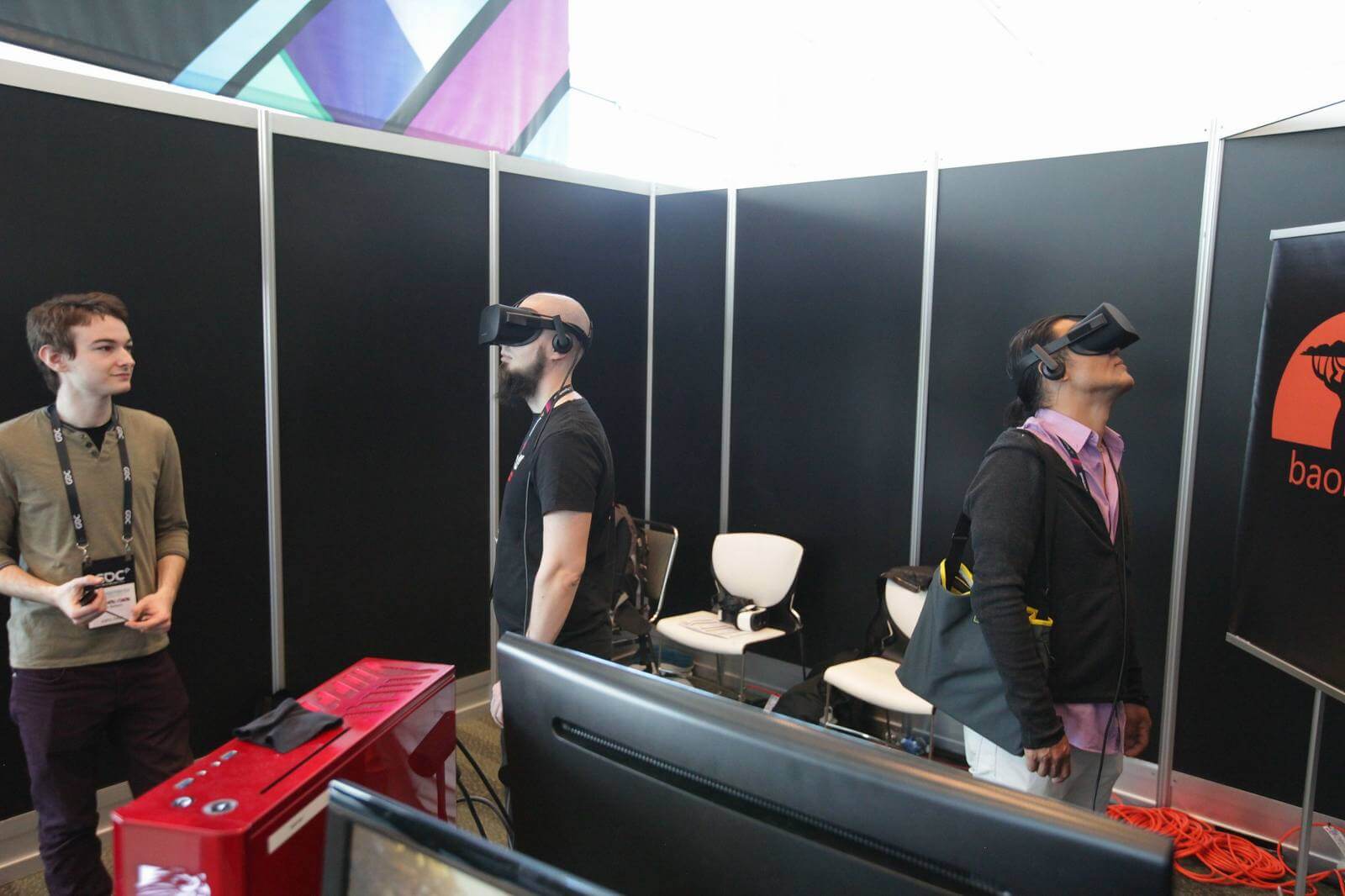 One great fact to know about VR is that extra devices contribute to it but aren't always necessary. If budget or event size isn't suggesting such a zone as a good move, you can explore the options of providing VR to visitors via smartphones or laptops right on the event's website, app or even in the printed catalog.
Projection Mapping
Continuing on the topic of reality upgrades, aside from VR/AR there is another impressive tool called Projection Mapping. Long story short, this piece of technology projects images of 3D objects.
It allows creating 3D videos without a need for flat surfaces, LED panels or headsets. Playing with light and images helps to make the venue itself more fun and set the atmosphere.
Wearables
Wearable technology devices become really popular among people - last year showed a 14% adoption rate of wearable devices. Smartwatches and rings, wrist bands and glasses - all these accessories allow measuring and tracking, connecting to the Internet and more.
One of the ways of using wearables for event benefit is to gather data without distracting participants. For example, most of the devices allow tracking steps and movements, resulting in footfall heat maps. On top of that, this data can be collected in real-time, providing a really quick report of which booths seem to be popular and which are underperforming. By using the metrics a trade show can help encourage visitors to check out less visited booths and improve exhibitors' ROI.
Targeting wearables as an event organizer you can also simplify some inner processes of a trade show like registration, access to some areas, alerting and notifying attendees.
Some events can afford to create their own wearables as simple as interactive badges. These fancy devices not only look intriguing but also can help to make contact exchange quicker and alongside gathering crucial data.
Provide exhibitors more opportunities
The good news is that you are not the only one who is worried about visitors' engagement. Exhibitors are interested in more activity for their booths as well. Provide them more opportunities to make trade show memorable and entertaining. There are plenty of options to explore like creating workshops, speech sessions, including them as sponsors of social walls or more.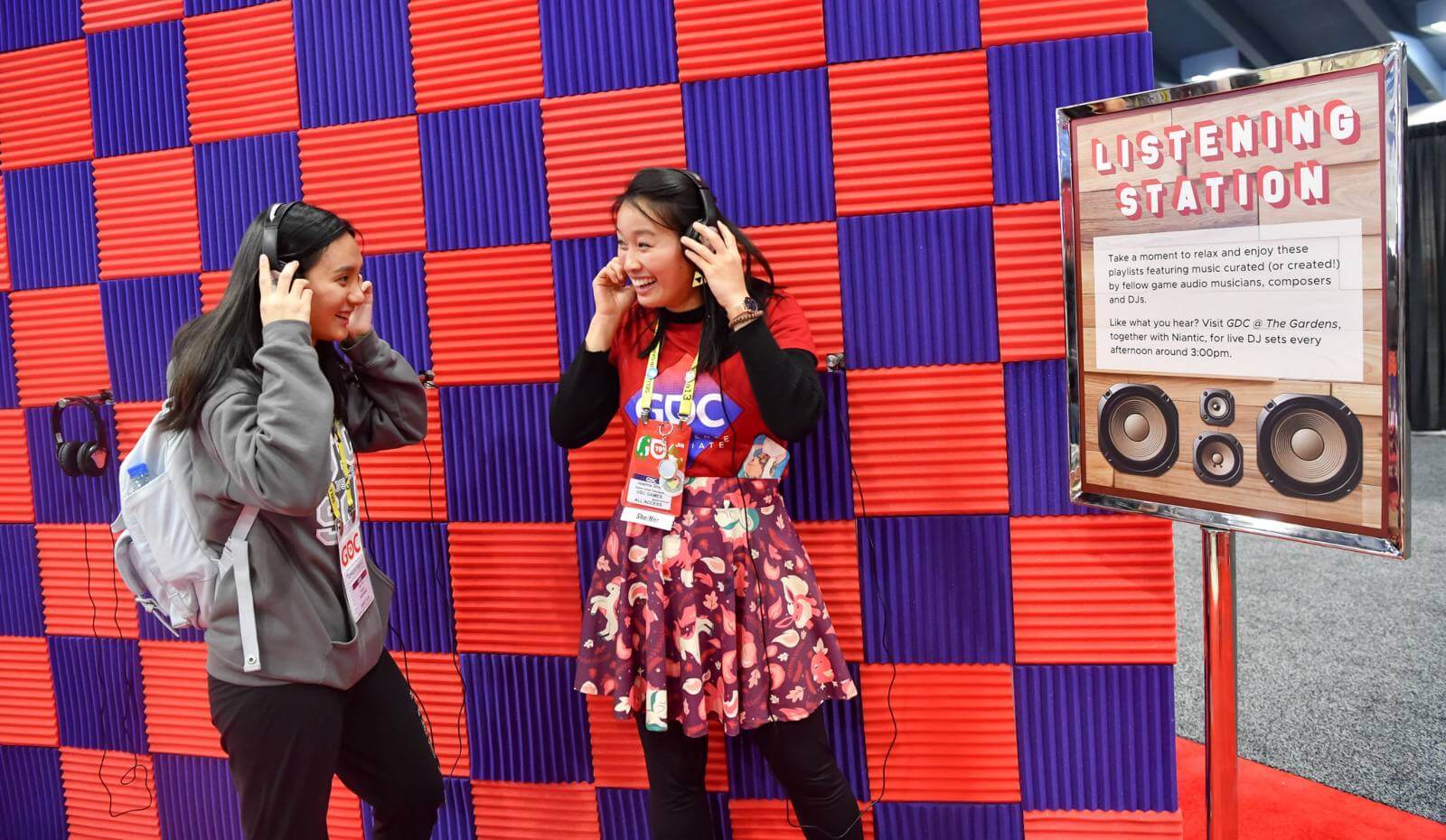 Looking deeper into this idea, you can question whether or not floor planning is good and enough for good exhibitors to unleash their potential. Or if they get other resources to make surprising things like trade show brochures and catalogs, banners, place on the event website. Think about providing them tools like placing QR codes in catalogs and online showrooms in the exhibitor list.
Educate and Connect Participants
92% of trade show participants say that they join events to see new things, products, and services. They wish to learn the latest news about the industry, so feed their curiosity. This can be achieved by inviting speakers, introducing new companies or featuring special products. Explore the form of rewarding the best newcomers of the show, the most successful ones, etc.
Event apps provide extra platforms for visitors and exhibitors to connect, exchange news and interact. Apps typically include floor plan, schedule, newsfeed, list of booths and speakers at least. Having all these features accessible right from a pocket creates a specialized network among trade show participants only that they get invested in.
Cut down the routine
So far the tools and methods we mentioned mostly require some special setting. If there is no room for that on your event, start by improving the current tools used in your trade show to make participation easier. Removing the extra stress and leeway can level up engagement.
Check out the ways to make navigating through a trade show, sharing contacts and networking easier. Does your event provide online registration and tickets? Is it easy to go through the floor?
Just make it good
It may sound boring, but a well-organized event with a focus on participants' needs can actually be very impressive. Learn what indicators are important for people, who join trade shows, and try to deliver a good result alongside easily gathered statistics.
In general, to make an event worth attending, you should offer good attendance rates. At the end of the day, the main reasons most of the companies take part in all that jazz are leads and sales. But equally with focusing on the quantity, concentrate on increasing conversion and involvement of visitors, in other words, on the quality of the leads.
Pictures by Official GDC
Was this article helpful?